Douglas Todd: Chinese travellers to Canada plunge. What does it mean?
Opinion: The drastic decline in travellers from China feeds in to debate over the pros and cons of less engagement with Beijing's regime and its citizens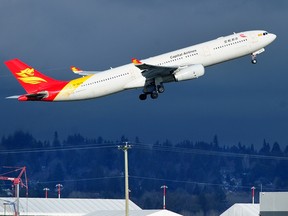 Article content
Three years ago, 55 jumbo jets from China were touching down at Vancouver International Airport every week.
Article content
Now there are only eight flights a week from the world's most-populous country.
Article content
There has been an almost similar plunge in the proportion of Chinese nationals applying for Canada's 10-year visas. A related decline means fewer people from China are seeking student visas, and showing relatively modest interest in permanent-residence status.
China's draconian pandemic lockdowns — which are more strict than anywhere in the world — have reduced travel in and out of the country, with the number of international air passengers across all of China's airports falling from 74 million in 2019 to 1.5 million last year.
But that's not the only reason for the decline.
With China's Communist leaders poised this month to hand strongman Xi Jinping an almost unprecedented third five-year mandate, crackdowns are increasing on Chinese citizens, including through digital surveillance, censorship, arrest of dissenters, party infiltration of private businesses — and far less travel to other countries. Most observers believe obsessive control will be China's new normal for a long time.
Article content
The drastic decline in the transnational mobility of the people of China feeds into the debate in the West over what it means to have far less engagement with China's regime and its citizens, even while many are not necessarily tied to the authoritarian government.
In response to tighter controls in China, Canada has been shifting. While five years ago people from China made up the largest group of visitors and students, Indian nationals now comprise by far the largest group.
Two new books argue each side of the China engagement coin. In The United States vs. China: The Quest for Global Economic Leadership, economist Fred Bergsten argues corporate engagement has been a success, despite tragic failures on the human rights front.
Article content
Bergsten belongs to the camp that champions the free global movement of money and humans, saying Western countries should continue to offer a warm reception to entrepreneurs, students, workers and visitors from China. It's good for business.
However, another book, by Princeton University professor Aaron Friedberg, titled Getting China Wrong, calls the West's engagement with China a gamble that didn't pay off. He says the challenge now is how to reduce ties to a threatening regime run on draconian Leninist principles.
Wherever one comes down on such arguments, the reality is the flow of people from China into the U.S., Canada and other Western countries has reduced dramatically.
Canada's travel industry is among those hurting, especially in B.C. And that's only partly because, as Destination B.C. official Kristen Learned says, visitors from China spent the most of any tourists: $2,021 each.
Article content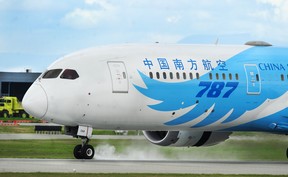 In 2019, more than 15,500 people were flying each week into Vancouver from China, now it's just 2,600. That's as airport officials say international flights from every other nation are almost back to pre-COVID levels.
Three years ago Canada brought in 712,000 visitors from China, who stayed an average of four weeks. Destination B.C. figures show 334,000 of them spent their days in B.C., which made them to the province's second-largest international tourist market, after the U.S.
In 2019, travellers from China bought over $586 million worth of goods and services while on the West Coast, especially on hotels, luxury resorts and Airbnbs, as well as dining out while visiting relatives.
But by midsummer of this year, only 36,000 visitors from China had flown into Canada, with just 18,000 to B.C. That's reflects a drastic overall rate of decline in three years of about 91 per cent.
Article content
Meanwhile, travellers into Canada from India, Britain and France are soaring.
Additional data reveal just a few years ago people from China were by far the biggest group applying for Canada's popular 10-year visas.
Since the 10-year visa program began in 2014, allowing people to travel to the country for six months at a time as many times as they want, Chinese citizens have accounted for 3.2 million of the 13 million visas issued.
But a sharp drop in visa applications from China occurred even before the pandemic hit. At the same time, requests from India skyrocketed.
As a result, by midsummer of 2022 a relatively low number of people from China, 49,000, had applied this year for the 10-year visas. In the same period, applications from India skyrocketed to 355,000.
Article content
The highly valued multiple-entry visas are generally a benefit to Canada's economy, say immigration lawyers. But they caution they can be abused by "shadow investors" in housing to avoid property and income taxes in Canada.
Educational relationships between China and Canada have also declined, although not as precipitously.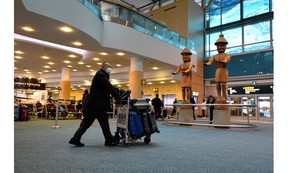 In 2017, study visa application rates from both China and India were equal — amounting to roughly 82,000 students a year from each giant nation, together accounting for almost half of all foreign students.
But in 2021, the second year of the pandemic, the numbers of Chinese international students seeking to come to Canada dropped to 56,000, while expanding from other countries — especially India, at 169,000.
Article content
The trend has continued into October of this year, with students from India accounting for 38 per cent of all study visa applicants and those from China just 11 per cent.
Meanwhile, the number of Chinese nationals gaining admission to Canada as permanent residents remains flat — at the rate of about 30,000 a year, compared to 127,000 from India.
The immigration path into Canada is not as strong an indicator of China's internal politics as other measures — because anyone from China who becomes a Canadian citizen, technically, forgoes their Chinese citizenship and the ties that go with it.
What does it mean? As Xi tightens his hold on power, no one absolutely knows what's on in his mind.
But even figures who advocate the unrestrained movement of financial and human capital realize Xi is dangerously bent on weakening democratic governments and further policing Chinese citizens in both his country and abroad.
Article content
This month, the pro-free-trade Economist magazine called on the West to continue to "welcome Chinese students, executives and scientists, rather than treat them as potential spies. Remember, always, that the beef should be with tyranny, not the Chinese people."
That appears to sum up the federal government's open approach, even while China's autocrats are ensuring there will be fewer people-to-people connections between our two countries.
Douglas Todd: Millions have scooped up Canada's 10-year visas

Douglas Todd: Generous Canada now no. 1 for foreign students

Douglas Todd: 10-year visas stoke housing booms in Vancouver and Toronto (2017)

link