Families left homeless after shanty town blaze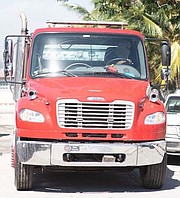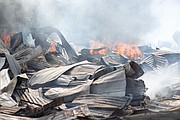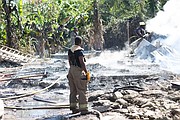 By LETRE SWEETING
FAMILIES were left homeless Sunday after a massive fire ripped through homes and vehicles in a shantytown in the Carmichael area.
Shortly after 10am, firefighters were notified of a fire at Pink Meadow Road off Belot Road in the Carmichael area. On arrival, firefighters met a shantytown consisting of wooden single-story structures totally engulfed in flames.
Firefighters responded with three fire trucks that were reportedly filled to capacity with water and were able to bring the blaze under control within a relatively short period of time.
On the scene of Sunday's incident, where explosions could still be heard and over 50 persons were gathered out crying for the loss of their homes, Police Chief Superintendent Chrislyn Skippings reported that more than 20 homes had been lost in the fire.
"There were roughly over 20 homes in this particular area and an estimated 50 people have since been displaced," CSP Skippings said.
"We don't have any death or any injuries reported at this particular time. The fire has been contained everyone thus far is safe. The fire marshalls will remain on the scene until the blaze is completley brought to an end," she said.
"We have reached out to (The Department of) Social Services and so we're presently awaiting their arrival so that they can assist the displaced persons in resuming normalcy in their lives at this particular time," CSP Skippings said.
CSP Skippings added: "At this time, of course (The Department of) Immigration maintains records and files, so once persons would've had their papers, they can go back to immigration, those papers will be filed and they will be able to provide them with a copy of their documentation.
"We're not focusing on documents right now, we're focusing on saving their lives. They are also human beings. Despite what might be going on in Haiti at this time, as a country we have an obligation to ensure that their basic welfare needs are met. That is what we're doing at this particular time," CSP Skippings said.
One of the community's displaced residents, 66-year-old Rosny Fertil who had been living in the community for over 30 years with his wife, said despite Sunday's fire, he and his wife have spent the better part of their lives in The Bahamas and will get back on their feet again.
"I live in this yard for 36 years. I have been living in the yard with my wife since 1998. This day, this problem come into our (community). I am a man who tries to help people. But when I was at work, my wife called me and said, 'Fire catching in the yard,'" Mr Fertil explained.
"I just fixed my house with 40 sheets of plywood and now no house. And all my jeep and where I go to sleep (is gone)," he said.
"But guess what, God protects me and even as a foreigner, I love The Bahamas. There's better living in The Bahamas. That's where I put all my blood and all my couple of dollars. I have to excel for my children. I have twins, it feels like they were just born and I look at them now and they're 18. They're going to be finished school in June," Mr Fertil said.
"So, now what do I have, where do I stand? I (am) living just like (a) dog. A dog lives everywhere, so that's just what I'm going to do," he said.
Mr Fertil added he was not able to save any of his or his family's belongings.
"Documents, bed, clothes, I didn't get to save anything. My children can't go to school. We were supposed to go to church, but now the fire broke out, we can't go," he said.
Both fire investigators and crime scene investigators have commenced work into this latest incident to see exactly how this fire started.
The fire came days after government filed a court summons seeking permission to demolish the expansion of a shantytown in Abaco as well as at two other locations in New Providence.
Such fires are not unusual as there have been several blazes in shantytown communities over the years.
On December 26, 2020, ten people were left displaced after a fire destroyed five homes in a shantytown community off Cowpen Road.
On November 14, 2021, six families lost their homes after a fire broke out in a shantytown community off Joe Farrington Road.
No one was reported to be injured for either incident.
Recently, there have been renewed calls for the government to address the issue of shantytowns, with many citing environmental hazards and safety concerns due the illegal building practices.
link