What to Know in Washington: Biden's Unity Plea to Divided Nation
President Joe Biden asked Americans to rally behind a shared political vision—and against a geopolitical foe—in his first State of the Union address as he sought to assuage a nation beleaguered by a stubborn coronavirus, deep cultural divisions and historic inflation.
But the harder Biden pushed familiar appeals to bipartisanship and democratic ideals in his speech last night, the more he emphasized how frequently he'd collided against the limits of that approach in his first year in office.
Biden opened with a sweeping condemnation of the Russian invasion of Ukraine, drawing bipartisan cheers as he challenged the House chamber to literally stand up to President Vladimir Putin. The moment, and Biden's improvised pledge that Putin has "no idea what's coming," dramatized his appeal for national unity.
Biden tried his best to conjure optimism, declaring a new phase in the fight against Covid-19 and hailing the perseverance and strength of the American people. He unveiled what he called a "unity agenda" focused on ideas like battling cancer and opioid abuse, aiding veterans, and bolstering mental health services that might tug at Republicans. "There's something happening in America," Biden said. "Just look around and you'll see an amazing story."
The majority of Biden's remarks were dedicated to resuscitating an economic agenda that's failed to get traction with moderate lawmakers or motivate voters. Biden's argument that spending on climate change, prescription drugs, and childcare could fight inflation was one he's made ever since his "Build Back Better" legislation collapsed late last year. Justin Sink recaps the speech and its highlights.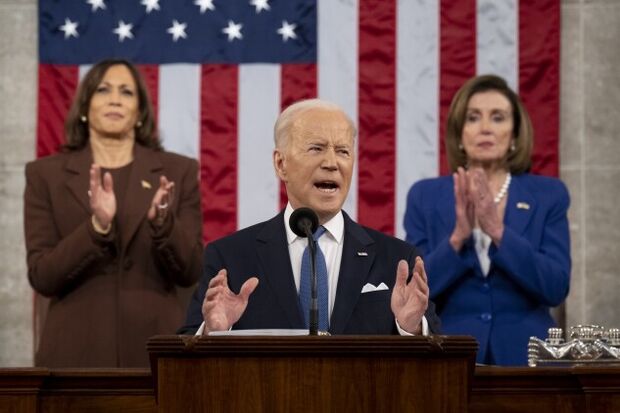 KEY ISSUES BIDEN TOUCHED ON:
Biden's unity pitch hinges partly on an omnibus government funding package lawmakers hope to enact next week. Biden called for lawmakers to reject calls to defund the police, invest in border security technologies and cut the cancer death rate by funding the launch of a health-focused research agency. He touted the Justice Department's decision to require body cameras and ban chokeholds. The House's initial Commerce-Justice-Science spending bill included grant money for police departments requiring similar actions, drawing Republican pushback.
The president also called on lawmakers to "secure the border and fix the immigration system." Border security funds have been a key sticking point for appropriators in recent years. Biden praised technological improvements to detect drug smuggling. Sen. Shelley Moore Capito (R-W.Va.), ranking member of the Senate Appropriations Homeland Security Subcommittee, has said border security technology funding could provide a middle ground for Democrats and Republicans, though the GOP wants border wall money. Read more from Jack Fitzpatrick.
Republican leaders tapped Iowa Gov. Kim Reynolds to deliver their response to set up the GOP campaign message for the midterm elections, but the choice also reflects the party's delicate balancing act as it approaches the 2024 presidential election. Reynolds, who is up for re-election this November and is one of the nation's more popular GOP governors, used her address to key in on the pessimistic mood of the electorate. "Instead of moving America forward it feels like President Biden and his party have sent us back in time to the late 70s," she said, touching on inflation, rising crime and aggression by Moscow. Laura Litvan has more.
BIDEN'S SCHEDULE:
The president and first lady Jill Biden will travel to Superior, Wis., to discuss the impact of the infrastructure law's funding to rebuild roads and bridges and boost job growth.
Happening on the Hill
CONGRESS'S SCHEDULE:
The House is set to begin consideration of a bill to expand eligibility for health-care benefits and disability compensation for veterans exposed to toxic substances. It will also take up a nonbinding resolution to support the people, sovereignty, and territorial integrity of Ukraine.
Fears of Russian cyberattacks led senators to fast track cybersecurity proposals focused on reporting hacks. U.S. businesses are on high alert for Russian cyberattacks in retaliation to strict sanctions imposed after the invasion of Ukraine. The Cybersecurity and Infrastructure Security Administration is warning organizations to prepare, though it says there are no specific threats to the U.S. right now. The Senate passed the Strengthening American Cybersecurity Act, a package of three cybersecurity bills sponsored by Sen. Gary Peters (D-Mich.), by unanimous consent yesterday. Read more from Maria Curi.
More green cards per country could be issued annually under legislation Senate Democrats introduced yesterday to address endemic delays in granting that permanent-resident status. Processing delays and restrictions on the number of cards awarded annually have created massive backlogs that force immigrants to wait for years to come to the U.S. or secure permanent status. Sen. Dick Durbin (D-Ill.) said his legislation would chip away employment-based and family-based green card backlogs in five years. "The solution to this backlog is clear: increase the number of green cards," he said. Andrew Kreighbaum has more.
Progressives are scrutinizing a possible redesign of a Medicare pilot program by the Biden administration that could revamp the way doctors are reimbursed. Democrats have criticized the Trump-era program, saying it's a bid to privatize Medicare quietly and the proposed changes to the global and professional direct contracting model may not be sufficient. Sen. Elizabeth Warren (D-Mass.) said she's diving into the details of the Biden administration's changes to ensure they don't allow profiteering at the expense of seniors in the program. Read more from Alex Ruoff.
Pete Buttigieg is defending DOT's method of spending infrastructure law funds against Republican criticism. Republicans have taken issue with a December memo from the Federal Highway Administration to staff that said, in "most cases," highway money in the infrastructure law should be used to repair and maintain existing infrastructure before spending on "expansions for additional general purpose capacity." That approach goes against congressional intent, Republicans said. The secretary of Transportation sought to quell their concerns ahead of a hearing before lawmakers today. Read more from Lillianna Byington.
Politics & Influence
Multiple candidates in Texas are heading to runoff elections after yesterday's primary voting, Greg Giroux reports. Reps. Henry Cuellar (D) and Van Taylor (R) were forced into a runoff after they failed to win a majority of the vote in the first-in-the-nation congressional primary.
Cuellar, a moderate Blue Dog Democrat, had 48.5% of the vote to 46.8% for progressive lawyer Jessica Cisneros, according to nearly complete returns from the Associated Press. Tannya Benavides, a progressive activist, had 4.7%. Cuellar and Cisneros will compete in a May 24 runoff in the 28th District, a Hispanic-majority area that includes Laredo and part of San Antonio. The 28th District leans Democratic, though Republicans are targeting the district in November. Cassy Garcia, a former aide to Sen.

Ted Cruz

(R), qualified for the Republican runoff.
Taylor, from the Republican-leaning 3rd District near Dallas, had 48.7% of the primary vote and was drawn into a runoff with Keith Self, a former Collin County judge.
In the 15th District, a competitive Hispanic-majority district on the U.S.-Mexico border, Republican businesswoman Monica De La Cruz defeated eight opponents with the assistance of House GOP leaders. She'll face the winner of a Democratic runoff that will include Ruben Ramirez, a lawyer and Army veteran. After changes made in Republican-led redistricting, the 15th is a top pickup opportunity for House Republicans, who need a net gain of five seats nationwide to overturn the Democratic majority.
In the 35th District, Greg Casar won a four-way race in the primary for an open House seat after securing endorsements from liberal superstars like Sen.

Bernie Sanders

(I-Vt.) and Rep.

Alexandria Ocasio-Cortez

(D-N.Y.). With 78% of the vote counted last night, Casar led with 62%, giving him more than the majority needed to avoid a runoff. Read more from Gregory Korte.
Gov. Greg Abbott fended off a primary challenge by shifting his focus to culture wars on the edges of the Republican Party's right wing, setting up a potential test of the GOP strategy nationwide. His general election opponent, former Democratic congressman

Beto O'Rourke

, launched his campaign bid with attacks on Abbott's governing competence, particularly his handling of last year's winter storm when Texas's power grid collapsed, as well as economic issues. But O'Rourke also made clear yesterday that he'll engage Abbott in the culture war fight. Read more from Ryan Teague Beckwith and Michael Smith.
The race for the Republican nomination for Texas attorney general looked to be headed to a runoff between incumbent Ken Paxton and either George P. Bush or Eva Guzman. Paxton had 43% of the votes, shy of the 50% needed to skirt a runoff with the second-place candidate, according to an incomplete tally of votes by The Associated Press as of midnight in Austin. Bush, a grandson and nephew of presidents, had 22% and former Texas Supreme Court Justice Guzman got 18% of the vote. Read more from Brendan Walsh.
Six people accused of promoting false claims the 2020 election was fraudulent and taking part in efforts to delay or overturn results were subpoenaed yesterday by the House select panel investigating the Capitol attack on Jan. 6, 2021. The six individuals "all have knowledge related to those matters" and will help the panel understand the strategies "employed to potentially affect the outcome of the election," Chair Bennie Thompson (D-Miss.) said. The people include Cleta Mitchell, a conservative activist who allegedly was on Trump's infamous phone call with Georgia's secretary of state. Read more from Billy House.
A state GOP probe into the 2020 election in Wisconsin concluded there was illegal voting and that Biden's win could be de-certified. Michael Gableman, a former justice on Wisconsin's Supreme Court and special counsel hired by Republicans, filed an interim report yesterday and said the legislature "ought to take a very hard look at the option of de-certification of the 2020 Wisconsin presidential election." There has been no credible evidence of significant voter fraud in the U.S. that would have changed the outcome of the election. Read more from Mark Niquette.
To contact the reporters on this story: Zachary Sherwood in Washington at [email protected]; Brandon Lee in Washington at [email protected]; Greg Giroux in Washington at [email protected]
To contact the editors responsible for this story: Giuseppe Macri at [email protected]; Loren Duggan at [email protected]; Michaela Ross at [email protected]
link